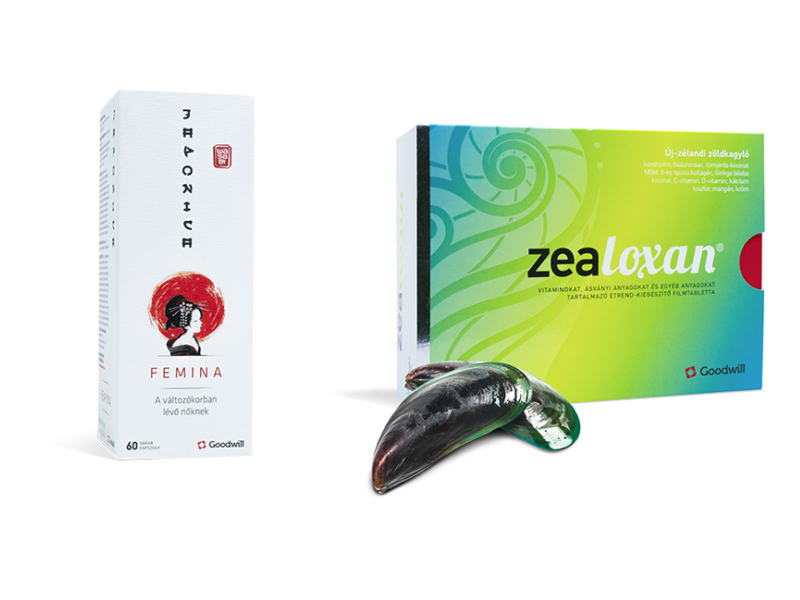 New products at Goodwill Pharma
Goodwill Pharma is proud to announce the launch of two food supplements Zealoxan and Japonica Femina in October 2018. Although they differ in composition, their ingredients are linked to two marvelous countries. While the green-lipped mussel extract in Zealoxan is linked to New Zealand, the unique combination of herbs in Japonica Femina is linked to Japan.
Zealoxan is a new food supplement developed by Goodwill Pharma. Probably the most valued ingredients of Zealoxan to be mentioned are green-lipped mussel, type II collagen and Boswellia Serrata. These ingredients along with other 10 components render this food supplement special. The green-lipped mussel extract contains various biologically active lipids out of which of pivotal importance are the Omega 3 fatty acids (EPA, DHA) and the glycosaminoglycans. In one sentence, Zealoxan helps keep the zest until the end of the adventure.
Japonica Femina is a hormone free food supplement developed for women in menopause. Its name reveals much about its ingredients, the selected herbs of Japonica Femina are used in Japan for centuries. If we look at a Japanese woman, we would undoubtedly see harmony, balance and peace. Japanese women regard menopause as a natural phase in their life. As opposed to this, in the western world, women approach menopause with fear, anxiety and uncertainty, as they struggle with hot flashes, sleep disturbance and mood swings. With Japonica Femina we intend to support women in menopause with the help of a unique combination of herbs. Out of the 5 main ingredients, we would highlight Paeonia Lactiflora, a well respected herb in the Japanese culture, Panax Ginseng, known as the root of life and Angelica Sinensis, known as women's Ginseng.