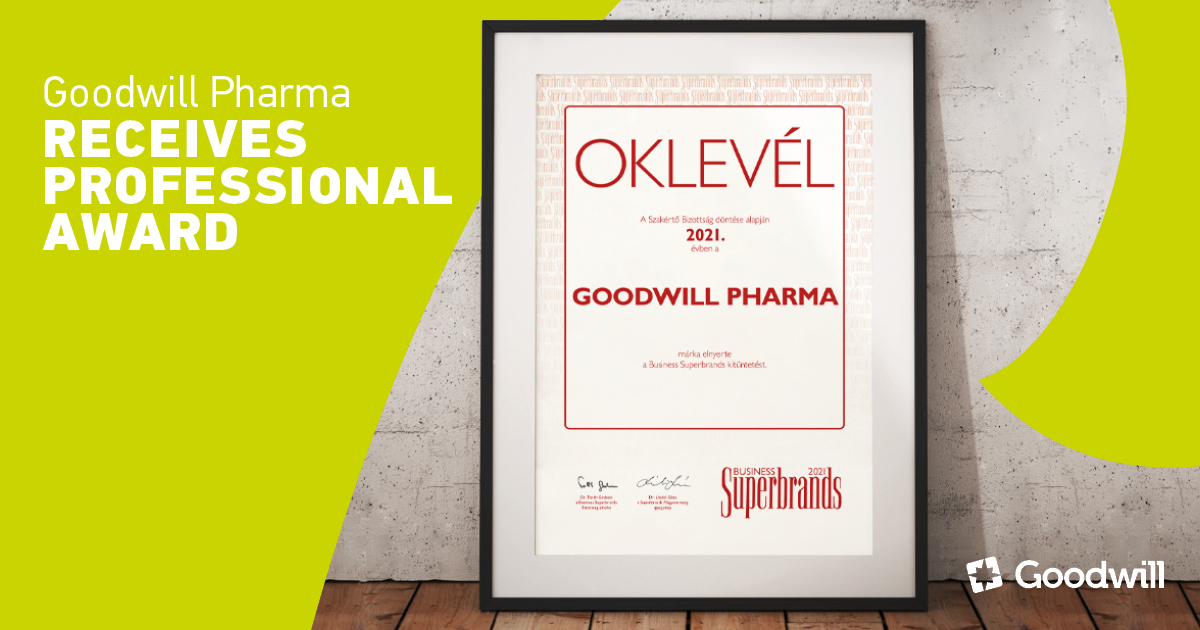 Our company receives Business Superbrands Award
This year is the fourteenth time that a committee of 20 independent experts has met, which found our company worthy of wearing the Business Superbrands 2021 trademark. We are very grateful, since this award demonstrates our broad professional recognition and underpins our focused strategic aspirations.
The mission of our company is to develop and market high quality, definite-value, effective healing products available to our fellow human beings according to therapeutic areas in order to prolong life and improve its quality. As committed representatives of health, we would like to draw attention to the importance of prevention to better take care of our health, our families and our environment. Health has become a value and a health-conscious mindset is gaining prominence. Following the philosophy of our Nobel Prize-winning scientist Albert Szent-Györgyi, we consider it our vocation to further strengthen the positive beliefs of those living in our environment.
Recognition of the best brands
This year, it has been 26 years since marketing and communications authorities have launched the Superbrands program in the UK. The goal was twofold: to put outstanding brands in the spotlight and to set examples to follow. The program has become known all over the world since its launch, and today the title 'Superbrands' is a special qualification in nearly 90 countries. The jury has a prominent, responsible role in all countries, so only recognized professionals can be part of the committee.
Business Superbrands is celebrating its 14th birthday this year
The most outstanding brands of the B2B sector are highlighted, ie. Hungarian companies and brands that are related not only to consumers, but also to businesses and organizations. Based on the Bisnode database, and taking into account the recommendations of major Hungarian professional organizations and associations, the list of about 4,000 brands will be submitted to the committee after financial and professional screening. This list includes the most profitable Hungarian companies, as well as smaller companies that are considered to be the best business, as well as their outstanding communication and branding practices in Hungary.
'We are responsible for our own health, and our future also depends on the awareness and example we pass on to the younger generations' says Dr Ferenc Jójárt, the owner of our company.
Showing an example of building a successfull brand
Superbrands recognition sets the direction for emerging market players and set an example for domestic brands to succeed in brand building. The award is a positive feedback for our company's brand that  highlights the best on a professional basis. The award committee is made up of renowned experts in the field, whose decision attest to the success and credibility of the award to date. This year, the committee of 20 independent experts met for the 14th time and found our company in Szeged to be worthy of wearing the Business Superbrands 2021 trademark.
We are grateful as this award demonstrates our broad professional recognition and underpins our focused strategic aspirations.